Server and Services

Offers

hosting - domains, web sites
SVN - subversion
server administration
Projects

For our partners, customers and students
weinert -automation
provides informations and Web services.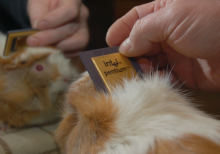 Most of the services and some of the content require an authentication as
weinert-automation.de
user.
Please find as authenticated user
Without authentication see
At the moment some of those sites are (partly or fully) disabled on customer's request due to uncertainities of the consequences of EU-DSGVO.
Competence

long-standing experiences with Windows server and AD domain administration
Ubuntu server
Apache on both platforms (Apache2.4 on Ubuntu server 16.04 e.g.)
Subversion server on both platforms
Automation of administrative server tasks (hooks)
with batch, bash etc. and preferably Java
weinert-automation Prof. Dr.-Ing. Albrecht Weinert (owner) Schattbachstr. 42, D-44801 Bochum
weinert-automation.de weAut.de
info@weinert-automation.de
German tax No.: 350/5264/0534 Finanzamt Bochum Süd VAT ID: DE277642087
banking account: 2144409 at BBBank Karlsruhe (BLZ 66090800) IBAN: DE87660908000002144409
(BIC: GENODE61BBB)