A dialog window for common use
.
For intermediate displays and interposed questions graphical applications as well as non graphical ones often need a dialogue window. Usually this consists of one or two texts (may be one of it with input facilities) and up to three buttons to get user responses. Figure 1 shows an example. With the options mentioned the majority of use cases is covered.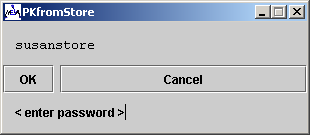 Figure 1: Simple example of an
AskDialog
window.
Objects of this class are that kind of dialogue window featuring thread and event handling and hence giving all comfort to the using class. Compared to a
JOptionPane
used often in similar use cases the main differences are:
- less flexibility in graphical layout,
+ less difficult handling,
+ optional limiting the wait time for user responses (as the time-out feature is often badly needed),
+ does not (contrary to JOptionPane) forbid the normal usage and ending of a (non graphical) application.
Remark: Normal ending means a well behaved end of all threads without "violence" like System.exit(); see Hint 1. Applications, using
AskDialog
objects don't get exit() problems, even if non graphical and also if not Frame4J or
App
based.
Hint 1: Also with non graphical applications having used graphical elements the JVM has to be killed with System.exit() sometimes. The reason is the (buggy) running of graphical event threads as non daemons even if the last usage / life / visibility of graphical elements was hours ago. On the other hand calling System.exit() in one thread too early may have disastrous effects on server applications as undeniably killing all running threads. Frame4J organises the JVM end for all applications based on it (on
App
) safely.
Hint 2: Depending on the construction with or without parent window, the used dialogue window is made as
JDialog
respectively as
JFrame
(the common grandma is
Window
). As the event handling of Dialogs is problematic on some platforms the usage of Frames should be preferred.
Hint 3: The response code values
YES
,
NO
etc. differ from those of
JOptionPane
.
©
Copyright 1998 - 2002, 2004 Albrecht Weinert