File and directory services
.
Objects of this class support file and directory services. Therefore they have
an ample set of properties for those kind of services (like "act recursively on sub-directories too" recursion, "revert or equalise the roles of source and destination" (recursion respectively biDirect)
as well as
the necessary criteria for the files (filCrit) and directories (dirCrit) to act on as two (associated) FileCriteria objects.
Point 2 is quite flexibly and comfortably implemented by the class
FileCriteria
.
Point 1 relates to the criteria and settings for the actions / services to do on the selected files and directories, like
recursion
,
createLowerCase
,
noLCforTypes
,
delEmpty
etc.. These properties form a fairly complete set for a very wide variety of services, so some of them are, of course not relevant, for a concrete service to be implemented. Examples of services / tools using
FileService
are de.frame4j.Update,
FuR
, de.frame4j.Del and
SVNkeys
, to name a few.
At first all properties and criteria of a
FileService
object have to be set. The most comfortable way is do do that in one step by the method
set(PropMap)
in one step using
PropMap
object with the right settings .
The second and last step is just to start the service (any service you can think of) by calling the method
dirVisit()
. It will visit all directories and files, that meet the selection criteria and other properties.
The kind of service so (simply) done will be determined by one to three (four) objects passed to the above method, which implement the simple interface
FileVisitor
. By providing up to three such objects one can (but must not) implement separately the single isolated action on
a file,
a non empty directors (visited before or after the recursive descend) and
an empty directory.
If the same action is wanted in more than one circumstance, supply the same
FileVisitor
object. Is nothing to do specially in one of the cases, simply supply null.
In any case the
FileVisitor
's method
FileVisitor.visit
(
File
) implements the wanted action in each case. And that can be anything like even just do nothing, just list, delete, or even quit complex text operation like the Subversion (SVN) / CVS keyword beautifying for deployment by a tool like
SVNkeys
.
The use of the visitor pattern by Frame4J lets one do comfortably
an
y
thin
with files and directories by just implementing the single action.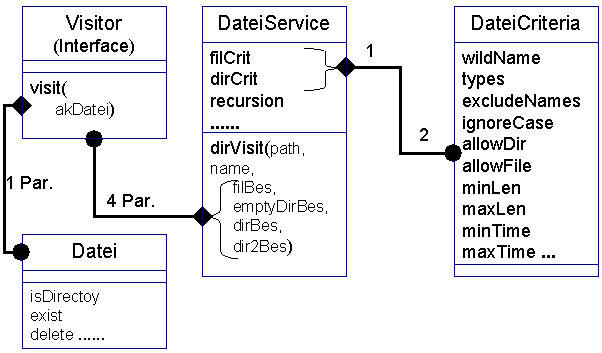 Figure 1: Visitor pattern using
dirVisit()
A tool proceeding (like others) in that manner is
FuR
(Find and Replace on a set of files with arbitrary complex criteria). After preparing all criteria and text replacements (most of
FuR
's code) all text replacements on all files are just done by using the
FileService
object (here called dS):
       dS.dirVisit(path, null,  
               replaceBesucher,   // the visitor for files
               null, // visitor for empty directory (no action)
               null, // visitor for filled directory (no action)
               null); // dito for visit after content visiting
Implementation hint: Writing the
FileVisitor
as an inner class of the application / tool, as is done with replaceBesucher in
FuR
, gives that visitor access to all application information needed. (If just one visitor is needed it can, of course be directly implemented by the application class.
Via factory methods   (
makeOutputListVisitor(PrintWriter)
,  
makeOutputInfoVisitor(PrintWriter)
  and
makeInCollectionVisitor()
)   this class offers three types of multiply usable
FileVisitor
object, used, of course, in Frame4J's tools.
Two often used file / directory services including all needed visitors are provided here too:
a comfortable and performing multistage backup and update service doUpdate() (used / wrapped in the tool de.frame4j.Update),
a supplementary cleaning service with optional backup doClean().
Implementation remarks on threading
The visits done by the method
dirVisit()
. and hence all calls to the the
FileVisitor
's methods
FileVisitor.visit
(
File
) come in a deterministic sequence in one thread. Hence, from this respect, those methods implementing
FileVisitor
don't have to be thread safe and don't have to bother with concurrency in their book keeping or whatever.
On the other hand (by this lack of concurrency as yet) complex (text) operations on hundreds of files — take
FuR
and
SVNkeys
as examples — are done sequentially adding their execution time. If the actions on single files (as in the example
SVNkeys
) were independent, concurrent execution would be allowed. The gain in time could be quite significant alone by not adding waits on I/O operations (even on just one core).
Future versions of this class may bring an "concurrency option" in the sense of acting on multiple files in parallel.
In between it is (under the condition of independence) possible for the application to supply a file visitor to the method
dirVisit(... queuingVisitor ..)
that returns at once delegating the real work (via a
BlockingQueue
) to an arbitrary number of working threads.
©
Copyright 2000 - 2003, 2005, 2006 Albrecht Weinert