Projects
µController board and run time system
Automation Module weAut_01
Based on a standard µController, weAut_01 was elaborately developed in 2010, professionally manufactured in 2011 and sold.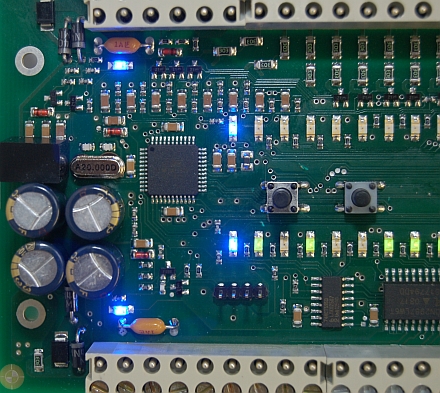 Remark: This module and its firmware was the foundation catalyst of weinert-automation.
The robustness of the IO, the wide range, buffering and surveillance of its power supply and many more features conform to industrial automation system standards. Properties like those are not found with (e.g.) Pis, neither on IO nor with supply.
Further information:
weAut_01 combines quality and robustness of industrial automation systems with (compared even to a basic Pi) low performance processor and slow LAN. As "serially controlled slave" weAut_01 may be the robust digital and analogue IO for a (small) standard computer.
Run time system weAutSys
Therun time weAutSys for µControllers is custom-tailored to weAut_01 and, nevertheless, easily adjustable to similar modules.
There are, e.g., ports to Arduino evaluation boards (Uno, Mega2560).
weAutSys features a framework with cycles, timers and supporting services for easily implementing automation applications in C.
Find more in - Documentation run time system weAutSys (module weAut_01) as html (Doxygen) or as pdf
Vendor statement: Since 2021 weinert-automation is aware of multiple security vulnerabilities in the uIP stack – commonly referred to as AMNESIA:33. The stack was used in weAut_01's LAN interface and is verifiably not in use anymore. Therefore, we deem the exploitation of our product a low risk. Patches won't be provided, hence.
Bootloader
The serial bootloader for several ATmega µControllers is an integrative part of weAutSys. Also, it may be used in other projects and on other platforms.
Automation with the Raspberry Pi
Automating with small standard computers is a low cost approach which you must take the lack of features coming without saying with industrial automation systems into consideration with. You will have to live without the lacking features or compensate for otherwise.
Software weAutRasp
weAutRasp's approach allows process control and home automation with small standard computers like the Raspberry Pi and with standard protocols and operating systems.
Programming the application and its control is done in C.
Java Framework

See the Frame4J site and the downloads.
Further Projects
Using standard components of the shelf ("COTS") for professional process control and automation
Management and surveillance of photovoltaic (PV) systems for private consumption
DCF77 with the Pi
On these and other projects, please find more in the blog and the publications.
weinert-automation Prof. Dr.-Ing. Albrecht Weinert (owner) Schattbachstr. 42, D-44801 Bochum
weinert-automation.de weAut.de
info@weinert-automation.de
German tax No.: 350/5264/0534 Finanzamt Bochum Süd VAT ID: DE277642087
banking account: 2144409 at BBBank Karlsruhe (BLZ 66090800) IBAN: DE87660908000002144409
(BIC: GENODE61BBB)